Rosa-Luxemburg-Konferenz, Berlin 2017
Mumia Abu-Jamal: Emerging fear states (Video)

Marylins Zunigas Speach (Video)

Marylins Zunigas Speach (Script)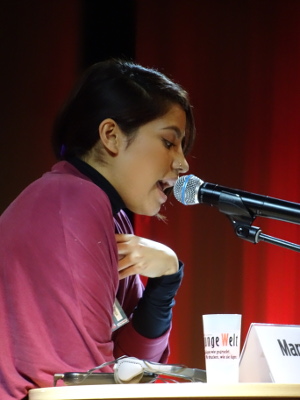 THANK YOU to everyone who help make this conference happen year after year. I felt great energies immediately walking into this space. I saw the Free Mumia sign right in front of this building and I thought to myself, "That's how you know I'm in the right place!"
I was charged with a great task today. I've been asked to speak at an international conference representing a country that just elected a white supremacist, fascist, reality star as president. As if that is not hard enough, I was asked to cover the following topics: the U.S. education system, the #blacklivesmatter movement and the presidential election. Each of which we know can have an international conference devoted to discussing the subtopics falling under each umbrella. Well I am being extremely honest with you when I say I do not come to you as an expert of the U.S. education system, or the #blacklivesmatter movement. And I am certainly no expert in electoral politics. I come to you today as an expert of my experience, of my story, of my narrative. That's what I will share with you today. We're going to call today's storytelling session, "Gospel in Berlin."
"LET HER TEACH, LET HER TEACH, LET HER TEACH!!" Emotions rise, and the chanting becomes louder as my heart beats faster than I can keep up. I scan the room only to see a mix of people who I never thought would all be under the same roof. My mother. My Principal. My nephews. My fellow grassroots organizers. My students parents. My high school friends. My teacher friends. The chairman of Newark's largest grassroots organization. A Princeton professor. Rebel Diaz, a revolutionary hip-hop group from the South Bronx. It seemed like everyone I knew was there.
I grew up in an immigrant family. My parents immigrated to the U.S. in 1989, short one year from my birth date. I grew up in a predominately white, Jewish, wealthy town in New Jersey. The economic paradox between my place of residence and the mansions up the street from me forced me to become acquainted with inequality at a young age. Growing up as the only U.S. born citizen in my family, I was teased at home for being "La Americana" and I was teased at school for my language and brown skin. As Gloria Anzaldúa affirms in her book Borderlands, "Living between two countries, two social systems, two languages, two cultures results in understanding experientially the contingent nature of social arrangements." It is precisely because of my experience that I understand oppression in the context of U.S. imperialism.
I hated school growing up. The cultural mismatch between my teachers and classmates and myself was evident. I was Latina and all my classmates were white. I spoke Spanish. They spoke English. They had doctors and lawyers as parents and my mother cleaned houses, while my father painted them. I didn't understand why my parents would enroll me in a school where I couldn't communicate with my peers. I didn't understand why they would have me in a school where the teachers didn't understand my language, my culture, or me - a place where I was constantly told to go back to my country, to learn to speak English. I just did not understand why I was here. Until, my last year of high school. I did a senior service program. The only reason I signed up was because I got to leave school early. They assigned me to help out in a neighboring elementary school; I had 2nd grade. There was one black boy in the class. He and I were the only people of color in that entire room. It was the way he looked up at me that made me realize my calling in this world. I remember the day I left the service program and called my best friend. "I know what I want to be. A TEACHER!" The irony. I hated school, yet wanted to attend more school in order to work in schools.
I decided to be an educator because I was aware of all the damage school had done to me as a Latina with an undocumented family in the United States. I was aware that it was completely racist that I got in trouble for wearing tank tops to school, while my white counterparts did not. I was fully aware that my history was not included in the textbooks we read. But, I had very little support in further developing those opinions. My family was apolitical at best, traditionally conservative at worst. For the most part, my family believes in a patriarchal household, and exudes anti-blackness and white american exceptionalism. When I say my family is apolitical, I mean I grew up in a household where politics was rarely discussed and women's opinions were nearly non existent. I knew I lived in a racist world, I was just simply unable to articulate what I knew.
Baldwin's words describe how I felt at the time "I don't know what most white people in this country feel, but I can conclude how they feel by the state of their institutions…I don't know whether the labor unions or their bosses hate me, but I know they don't have me in their unions…I don't know if the board of education hates black people, but I know the text books they give my children to read and the schools we have to go to. Now, this is the evidence." It wasn't until my college years when I learned to articulate the inequity I had been experiencing my whole life. I began to understand U.S. imperialism, capitalism, systemic oppression. I started naming the system for what it really was: what Bell Hooks calls an "'imperialist white-supremacist capi­talist patriarchy." She explains, this "describes the interlocking political sys­tems that are the foundation of our nation's politics" Finally, I was able to put language to my oppression, and to the oppression of those around me. It was my junior year of college when I encountered a professor who actually addressed issues of inequity and social justice. It was in this college course that I was able to pin language to my thoughts.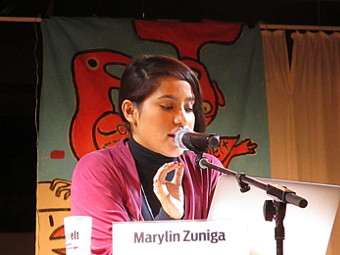 I now understood that my in school suspensions were actually a result of the school to prison pipeline because black and Latino students are disproportionately suspended and expelled in U.S. Schools even though studies have repeatedly shown that there are no general differences between the behavior of black students and their white counterparts. National data reveals that black students are significantly more likely to be suspended than white or Asian students. I realized that it wasn't only my school's textbooks that didn't care about my people's history, but that eurocentric curriculum plagued the entire U.S. education system. I realized that the fear in my sister's eyes driving her baby to daycare while a police officer pulled up behind her, was not unique to her, but a larger issue of anti-immigration policy in our country. It was all starting to make sense.
But, my undergraduate experience did not provide me with enough training to be in the classroom. Teacher training programs in the U.S. are some of the least rigorous and most undervalued. I decided to pursue a Masters in Curriculum & Teaching at Teachers College, Columbia University. This would prepare me better, I thought. *That same summer in 2012 the not guilty verdict for Trayvon Martin's murder was read. For those of you unfamiliar with this case, Trayvon Martin was a 17 year old boy who was murdered by a vigilante in Florida because he was wearing a hoodie and targeted as "suspicious." I attended my first protest in Union Square, New York City. I was fired up and I was unapologetically coming into my politicization.
I began to see that my calling as an educator and my activism were not mutually exclusive but in fact reinforced one another. In graduate school my research focused on the school to prison pipeline and how local schools in Newark, New Jersey were perpetuating the pipeline. The K-6 school I was assigned in had metal detectors in the entrance and cameras pointing to every child who walked through the door. They had a police officer on duty at all times and 3 security guards surveilling the hallways. It was the epitome of the school to prison pipeline. But, in my research I found that it wasn't just the visible components of a school that made them a pipeline environment. I pinpointed the dire need for culturally relevant pedagogy and radical curriculum design, especially in black and brown communities.
In 2013 I began to work for Sadie Nash Leadership Project, where I taught high school girls in Newark, NJ and designed my own curriculum. The first class I designed was entitled "Mass Incarceration in the 21st Century: A Feminist Analysis of the Criminal (In)justice System." Students can not possibly be mentally liberated from generations of miseducation, without understanding the current state of our prison system, and how our education system filters poor, black, and brown students directly into the criminal justice system. This course was designed and organized to expose every aspect of the U.S. prison system: the criminalization of poor, black, brown, Lesbian, Gay, Bisexual, Transgender, Queer, and undocumented communities. We talked about minimum sentencing, the school to prison pipeline, political prisoners, immigration detention, and more. After learning about the criminal justice system from this lens and reading texts like Assata's Autobiography, The New Jim Crow and On a Move: The Story of Mumia Abu-Jamal my high school girls decided to organize a demonstration and march on Rutgers University's campus. *They marched, chanted, and spread awareness and they even debated with a few law students on campus.
As my political views grew stronger and my community organizing expanded, it was clear my family was wary of my involvement with politics. This comes to no surprise, because as undocumented people you have to shut up and work hard so you can fulfill the "American Dream." In an open letter to my parents entitled "Your Dream is not my Dream" I explain why I do the work I do. I plead,
"I need you to know that Donald Trump is not the only one who hates us. That at the same time we're sold the Dream, we're handed a nightmare. Families are systematically deported and detained, homes violently raided and women brutally raped.
The Dream is a fairytale, tucking our arms behind our backs and shutting our eyes from reality.
The Dream sends ICE agents into immigrant homes tearing children from their parents' arms. Andres Jimenez is scarred for life after watching his father's deportation. The Dream double polices our communities: by border patrol agents and local law enforcement. In a world where Jessica Hernandez is blamed for her own death, while the cops who shot and handcuffed her lifeless body against the concrete, walk free. En un mundo where undocumented families are not only victims of deportation, but of an emerging deportation to death pipeline.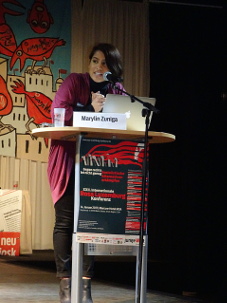 But, my dream is us fighting oppression and building community. My dream is a world where no human is illegal. A world where all our people continue la lucha -from DACA and We Can't Wait to Dignity Not Detention and #not1more. A world where you'll see that the sacrifices you made and the sacrifices I make are actually for the same reason. They're for our future, they're for our babies."
It didn't make sense then, in high school. But it makes sense now. See the most powerful form of colonization-- it takes place in memory, and in mind. If a person's mind is controlled so is there existence and purpose in this world. It was up until my college years that my mind had been colonized and controlled. Once my mind was liberated, my body was also walking talking and marching in the direction of liberation. The reason I tell you my story today is because it starts with reclaiming our narratives if we let trump tell our story, if we let Hillary tell our story, if we let Fox news, or CNN tell our stories then there will be no revolution. It begins with rewriting our own narratives.
In 2014 I was hired to teach 3rd grade in Orange, NJ. I was finally going to have my own classroom. A space where I can help liberate minds and begin the process of imagining a new world with future generations leading the way. Wait, but 3rd graders? You mean 8 and 9 year olds are supposed to change this messed up world? Yes. 8 and 9 year olds. As I started my teaching career I took a trip down memory lane: remembering all the times I sat in class and felt disconnected, invisible, ashamed. I was determined to never allow one of my students to feel that way in our classroom. I was determined to be the educator I never had. On August 9th, exactly a month before I started teaching, Michael Brown was murdered in Ferguson, MO. Another black boy dead. Another black person killed at the hands of police. Another black mother left to mourn the death of her child. Another headline criminalizing the deceased. I wanted to go. I wanted to go to Ferguson, but I had to prepare for my first year teaching. So I stayed, reluctantly.
As I started my first year teaching, I continued organizing in the community of Newark. *In November, a small group of local organizers came together to begin the first branch of Books & Breakfast, which originated in Ferguson, MO. Many of you remember, I'm sure, when Ferguson MO rose up and reached international headlines. Well, as the media only covered those who were rioting and looting, they failed to cover the work that was happening behind the scenes. A grassroots organization called Hands Up United in Ferguson started a books and breakfast program after the murder of Micheal Brown. My city Newark, NJ was the first to implement the program after Ferguson and now it is a nationwide program. Newark Books & Breakfast is a monthly program that provides free books and healthy breakfast to youth and families in Newark, NJ. Students received culturally relevant books that came from the last black-owned bookstore in the city. Families participated in political education workshops and teach-ins.
Meanwhile back at my school, my 3rd graders and I talked about police brutality and Mike Brown early on in the year. We talked about Trayvon Martin, Aiyana Jones, Eric Garner, and more. Yes. 8 and 9 year olds. We talked about anti-immigration laws and Andres Jimenez, a boy who witnessed his father's deportation and spoke out to President Obama about anti-immigration policy. We talked about justice and community. Yes. 8 and 9 year olds. And when Black History month came around I was sure as hell not going to make it a heroes and holidays experience. We did a unit on civil rights leaders, but our focus was leaders that are not usually in our textbooks, or curriculum. Assata Shakur, Angela Davis, Ella Baker, Stokely Carmichael, Huey P. Newton, Bobby Seale, Mumia Abu-Jamal. Black freedom fighters.
I remember my students being extremely captivated by Mumia Abu-Jamal's story. He was a young black boy from the streets of Philly who wasn't being stimulated enough at school. He describes his teenage years as being "kicked ... into the Black Panther Party." Why? Because he experienced a brutal beating by white racists at a pro-George Wallace for president rally in 1968. By the tender age of 14, he was the lieutenant of information for the Black Panther Party Philadelphia chapter and by 15 he was writing for the Party's newspaper and was being internationally read. I shared with my students that Mumia Abu-Jamal was currently incarcerated, yet a radio journalist and author of 6 books and hundreds of articles and columns. We analyzed the main idea of a quote by Mumia, "So long as one just person is silenced, there is not justice." We need to recognize that these are 3rd graders analyzing the idea of justice and what justice looks like in the context of silenced voices in the U.S. The day I shared Mumia's story with my 3rd graders that same night they went home and did research on Mumia. Without me asking them to, they printed out pictures of Mumia, a few of them had written paragraphs on Mumia. I mean if there are any teachers in here you know that sometimes its hard to get students to complete assigned homework. LET ALONE homework that is not require of them. It was clear that they were excited to learn the truth about their own history.
In April, I shared with my students that Mumia was extremely ill and the hospital wasn't giving him the proper treatment he needed. They were confused, and sad. A lot of them expressed feelings of frustration and anger. One student raised her hand and said, "Ms. Zuniga can we write letters to Mumia to make him feel better?" I said, "Of course we can." I always encourage my students to express themselves, especially through writing. They shared beautiful words like "I hope the nurses are taking good care of you." "I hope you get well soon and I wish I was there to take care of you." And drew beautiful pictures of Mumia with his long dreadlocks and their little smiley faces standing next to his hospital bed. When they finished their masterpieces a student asked, "Can we send these letters to Mumia?" I replied doubtedly, "I'm not sure if that will happen baby, we'll see." At the time I didn't know how I could get these letters to Mumia and was well aware that mail sent to political prisoners is often interjected. I called my comrade Johanna Fernandez, a long distance revolutionary herself, she said "We GOT to get those letters to Mumia. I am going to visit him next week, when can you drop them off?" I dropped off the letters on Sunday and they were in Mumia's hands by that Monday. Johanna later shared with me that Mumia was overjoyed to read the letters from 3rd graders because he loves children and that he was able to stand up and take pictures for the first time in a while.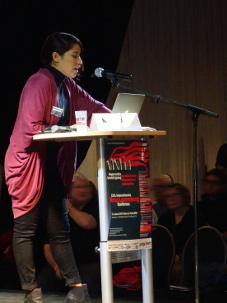 I was on spring break in Myrtle beach in South Carolina. Teacher vacations are golden and are not to be messed with. I started receiving twitter notifications on my phone from random handles. Threats. Name calling. *They were demanding my termination. Immediately my heart dropped. After a quick google search, I found that Fox news had already covered the story. "Children send cards to convicted cop killer." My principal called me and I was told to report to the Board of Education first thing Monday morning. Meanwhile, I was driving home from South Carolina back to New Jersey when I received a call from my sister who told me there were news reporters at my family's home. They were trying to question my 10-year old nephew about his auntie being a cop killer-loving teacher. It was the longest drive of my life.
When I reported to the Board of Education on Monday board members ridiculed me, and aggressively me that as a predominately African-American board that Mumia Abu-Jamal was not a hero in their eyes. They suspended me with pay and told me it would be addressed at the next board meeting. Until then, I was to report to the board of Ed and to not go anywhere near my students, or the school. On April 14, 2015 over 200 people showed up to support. They weren't just supporting me. They were supporting Mumia. They were supporting these 3rd grade babies' rights to a liberatory education. And essentially, the larger fight for freedom. Community members, grassroots organizers, local artists, school parents and families, Orange students all chanted together in that board meeting. "Let her teach! Let her teach! Let her teach!" Immediately it was all so clear. This is so much bigger than me, my students, or the letters. This is white supremacy at its finest, U.S. imperialism in all its glory. How can the fraternal order of police in Philadelphia have so much control over what a teacher is educating her students about in a small town in New Jersey? But it's all no surprise. This is precisely how our country functions: prioritize white lives over any one else, miseducate the youth, spread Eurocentric history and demonize the empowering force that is the history of black resistance in our country. But, please believe that the people were heard.
And if it hadn't been for the power of the people, I would have been fired that night. They tabled it for the next board meeting. I continued to report to the Board of Ed and kept away from school premises. Meanwhile, Grassroots organizers held a community teach-in on Mumia Abu-Jamal and the history of COINTELPRO, and the targetization of black freedom fighters. *One of my powerful students spoke out about how he felt. Various conversations and dialogue were organized across social media platforms to bring attention to the issues plaguing public schooling in the U.S. and the targetization of social justice teachers. A month later at the next board meeting, even more people came out to support and the energies were even higher. After dozens of people spoke in support of my reinstatement, the board voted to terminate me.
A year long battle of lawsuits via the union and independent legal measures, followed. We ended up overturning my termination and receiving the backpay I rightfully deserved. However, it was very clear that this was only the beginning of a new freedom fighting journey. Soon after, the universe exposed me to beautiful communities that were doing radical work in education.
The summer after I was fired I was invited to work with some organizations around the Dominican Republic, through an organization called Friends Beyond Borders. In the midst of anti-Black, and specifically anti-Haitian, violence in the Dominican Republic, students of Haitian descent in Santo Domingo are learning that these words apply to them. The school was started due to thousands of children not having access to the national education system because of their Haitian heritage. As educators, we had the privilege of visiting "Anaisa," a school that is not recognized by the state and therefore does not receive government funding. This colorful and vibrant small school community is operated off the strength of 3 teachers, 200 students, independent donations and a whole lot of resilience and commitment. Sonia Pierre, known as the "Cesar Chavez of Dominicans of Haitian descent" and founder of MUDHA, is largely responsible for the school's emergence. The members of MUDHA are committed to political education and social action around issues of deportation and denationalization. Their work carries on the legacy of Sonia Pierre and all freedom fighters who struggled for liberation on the island. On the wall of this small school in a batey called Plamarejo hung a beautifully painted sign entitled "derechos" and it read,
"I have the right to receive an education in a school where they don't hit me, scream at me, embarrass me or humiliate me. I have the right to play, enjoy myself and also to rest. I have the right to a name and nationality. I have the right to participate in sports, games and activities. I have the right to love, and for people to love me, to laugh and to dream." I cried reading these words.
Soon after, I had the privilege of meeting a fierce young black boy who is organizing around school closings in his home city of Chicago. His name is Asean Johnson and these are his thoughts on the U.S. Education system.
Exactly a year after my termination from Orange School District I received a job offer to work at my dream school. Within the next few months I packed up my life in New Jersey and moved cross country to continue the work I've been called to do. Roses in Concrete is a uniquely magical place. It is a safe haven for both the educators and warrior scholars who take part. "Roses in Concrete provides wrap-around services in education, health, housing, and job training. The long-term goal is to create a model for urban education that prioritizes the needs of youth and families as the pathway to building healthy and sustainable communities across the U.S. and around the world. The name of the school was inspired by the book of poetry based on the writings of Tupac Shakur released in 1999, The Rose That Grew from Concrete. This vivid image captures the need to celebrate the tenacity and will of the rose that against-all-odds, finds a way to grow in the inhospitable and toxic environment of the concrete that it might transform the concrete into a rose garden."
I am blessed to be working in such an environment that encourages me to teach the truth in the name of freedom for all people. As mentioned earlier, I was asked to speak on the presidential election today. The week of the election I deleted all social media from my phone and stayed as far away from all media outlets as possible. The night of the election I went to sleep early; I wouldn't hear one more word about either candidate. God woke me up at 3:00 am. I received late night texts from a few loved ones, "I love you, take care of yourself, I got you, i love you some mo'." The world was upside down and the the country was sitting in an eery silence. I was frozen, laying in bed, staring blankly at my ceiling. In a few hours I'd have to face about 46 self-aware 8-9 year olds. *The reason why I take my calling as an educator so seriously is summed up perfectly by intellectual and author Bell Hooks," "There can be no love without Justice. [And] Until we live in a world culture that not only respects, but also upholds basic civil rights for children, most children will not know love. Bell Hooks helps us understand the work we need to do in order to achieve liberation. What is the most precious treasure of any society? Children. I had no idea what I'd say, what I'd do, how to be.
While I and many others can intellectualize this moment, now that Trump is the President of the United States, in order to really feel the pain that many were enduring it is important to hear from some of the most vulnerable: Black and Latino 8 and 9 year olds in the heart of East Oakland, California. On the day following the election, my students and I held a healing circle. Some students expressed fear. Some students expressed confusion. Some students expressed the will to fight. *Here are some of the words they expressed about the president elect.
"He's building a wall and then some people can't come over here, and some people need to go back over there." - Leticia 1:28-1:39
"Donald Trump wants to bring back slavery and he wants to start another war." Dhiren 1:50- 2:05
"He might tell you to go where your ancestors were born." - A'kita 2:20-2:30
"I think we need to fight back to be strong to Donald Trump [crying] because we can't live like this with Donald Trump. We just need to fight back and we can do this for our own life."-Stephanie 11:23-12:00
Stephanie is right. Trump says go back, we say fight back. The reality is that these are not new circumstances, in fact, they have always been present; they've just changed form. The origins of the "land of the free" are white supremacist and heterosexist, as seen in our founding documents. The U.S. has always been a country of false democracy. But, please remember the title of our storytelling session today: "Gospel in Berlin." The greek root meaning of Gospel is "good news." What is the GOOD news? The U.S. and the African diasporic people at large have never lacked in revolutionary freedom-fighters. From Harriet Tubman who made 19 trips to free over 300 enslaved Africans in the underground railroad to Mumia Abu-Jamal who despite all the attempts to silence his voice, is still being heard LOUD AND CLEAR. From Marsha P. Johnson and Sylvia Rivera who fought for transgender folks of color during the 60's to those leading the #Blacklivesmatter movement today. From the powerful women who lead the Anaisa school in the bateys of Santo Domingo, to the Roses growing in concrete in East Oakland. As we all continue to fight in this transnational movement for freedom, I want to end with the words of Moya, a 9 year old who I have the privilege of teaching. *
"Imagine a golden light, in your heart, please. Imagine it. Imagine it. Imagine it. And when you imagine it, imagine the golden light protecting you, surrounding you, surrounding you with love." - Moya 12:24-12:45
Despite the deeply rooted oppression, our people always have and always will imagine a golden light. Thank you.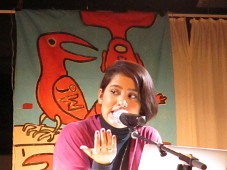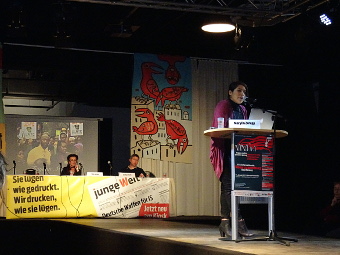 Wer ist Marylins Zuniga?
Marylin Zuniga studierte Lehramt an der Comumbia-Universität in New York und schrib hier ihre Abschlussarbeit über den Skandal, dass ein grosser Teil der afro-amerikanischen benachteiligten People-of-Color-Schülerscahft unmittelbar nach dem Abgang von der Bindungseinrichtung in einem der zahlreichen Gefängnisse der Usa landen.
Zunächst lehrte sie an der Grundschule in Orange, New Jersy, USA. Hier wurde sie 2015 auf Betreiben der FOP (Fraternal Order of Police ein Bundesverand US-amerikanischer Polizisten) trotz Solidartä der Mehrheit der Schülerinnen und Schüler un der Eltern aus dem Schuldienst entlassen. Als Begründung dafür wurde vorgebracht, dass Zuniga im sogenannten Black History Month mit ihrer Klasse Briefe an Mumia Abu-Jamal geschrieben hatte, in denen die Kinder dem damlas schwer kranken Gefangenen gute Besserung wünschten. Der Black Histroy Month wird in der zweiten Februarwoche in den US-amerikanischen Schulen gefeiert. Sein Fokus liegt seit der Bürgerrechtsbewegung auf der Geschichte der Afroamerikanerinnen und Afroamerikaner.
Marylin Zuniga ist heute Lehrerin an der Roses Concrete Community School in Oakland, Kalifornien.

Mumia Abu-Jamal: Emerging fear states (Script)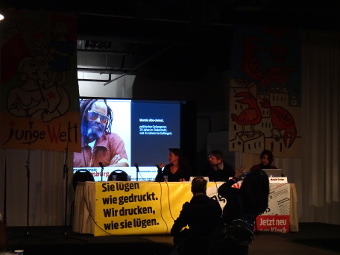 For the Rosa Luxemburg Conference. Meine Freunde, Bewegung!
What is happening in America, in Europe - there is study and reflection. On the surface we see a rightos thrift, as fearful, resentful publics empower forms of politics, that promise safety, especially regarding terror attacks. They have blown up and bloodied world capitals recently. If we look closer however, we see how economic insecurity, driven by the investor class, has waged an austerity war against working class and poor people. For economical insecurity begets political insecurity.
If we couple this with rich people taking office, we see how the super-rich are no longer content with renting or buying politicians. They cut out the middle-man and wage class war themselves. Thus we have Berlusconi for example, the media magnat in Italy and Trump, a real estate developer in the US. They run to enrich themselves and their class in naked expressions of crony capitalism.
Why are we seeing this now? Because neo-liberalist parties like the social-democrats and the democrats in America, have advanced austerity plans and supported globalist policies that have advantaged investors over workers. They do this because they receive vast sums of money from investment-donors. And these donors are repaid with business policies that enhance their bottom lines. By doing so they may have enriched party coffers, but they weakened the social positions of their voters, who must content with lower wages and higher prices.
This has led to working class estrangement, a growing disenchantment and even desperation among workers, as jobs, especially manufacturing jobs are taken abroad, for sites with lower labour costs. That desperation born of NAFTA, for example or the North American Free Trade-Agreement, led many to flee to those who promised more and better jobs, like Trump, for example. Thus those who benefited from the jobs being moved in the first place, capitalists, are now expected to replace them, with better pay to boot. Does that make sense? Workers who expect the same political forces, who have impoverished them, to suddenly enrich them are playing in the dark. They hope for that which will never come. Betrayed by their erstwhile neo-liberal allies, they turn in desperation to rightous demagogs who promise jobs, bread and glory.
One would think that they learned from Germany's example, or Italy's example of several generations ago. Hitlers national-socialist workers party, known as Nazis for short, promised glory and stained the nation with infamy. Similarly Mussolinis fascist party brought Italy discredit and destruction. People turn to these type of figures in times of economic dystopia, when normal governments seem incompetent or unable to cope with challenges facing them. When living conditions fall to dangerous and desperate levels and when tomorrows seem more fearful than hopeful. We see this in the vast anti-austerity movements, like the recent Brexit vote in England.
Neo-liberalism and his anti-worker globalisation projects, set the stage and nationalist publics are eating the meal. Socialists and real-leftists have been side-lined and undermined by not serving the interests of workers. For not opposing the capitalist globalists with sufficient vigour. Here is referred not to revolutionary or even radical political formations, for they rarely hold political offices in government. And when they do, they but yield to the politics of pragmatism. I mean the parties in power in the capitalist west, like Labour in the UK, like the democrats in the US and like the social-democrats in the European states. All of whom embrace neo-liberalism or politics of pragmatism, that serves the market or more accurately the investor class. And because they serve that class, they must betray the working class, the poor, the impoverished, the oppressed. They serve as elegant, highly intelligent, persuasive servants of capital, who build more prisons, neglect schools, armed cops with weapons of war, sell health care to the highest bidders and the like or posing as representatives of the people.
Neo-liberalism as typified by the likes of London's Tony Blair, or Washington's Bill Clinton, Hillary Clinton and Barack Obama, really means conservative politics of service to the market. Millitary and police repression and the subjugation of labour, are done with class, with a smile, with soft words, politeness. For years political writers have called this the third way. A kind of centering between right and left.
That's nonsense, for it is really rightist in movement while leftist in speech. It supports mass incarceration, a racist institution in America, and war in Iraq and Afghanistan. It supported the destruction of Libya, while sending more weapons to Israel. It is in essence kinder, gentler conservatism, which opened the door to the coming of Donald Trump. Here the politics of illusion have given rise to the politics of fear and emerging fascism.
It is time for real left to organize and rise! Danke, viel Danke. Thank you all. From imprison-nation. This is your brother Mumia Abu-Jamal.

Mumia Abu-Jamal: Die Entstehung der Angst-Staaten (Text - Übersetzung)
Für die Rosa Luxemburg Konferenz. Meine Freunde, Bewegung! Lasst uns genauer betrachten, was in Amerika und Europa zur Zeit passiert. An der Oberfläche sehen wir einen wachsenden Drive nach rechts, bei dem eine ängstliche, aufgebrachte Öffentlichkeit die Formen der Politik unterstützt, die Sicherheit versprechen - besonders vor Terroranschlägen, die in der letzten Zeit in vielen Hauptstädten der Welt ein Blutvergiessen angerichtet haben.
Wenn wir jedoch genauer hinschauen, sehen wir, wie ökonomische Unsicherheit, vorangetrieben durch die Investoren-Klasse, einen Krieg der Entbehrung gegen die Arbeiter*innen Klasse und arme Menschen führt. Denn ökonomische Unsicherheit erzeugt politische Unsicherheit.
Wenn wir das damit kombinieren, dass reiche Leute Regierungsämter übernehmen, dann sehen wir, dass es den Super-Reichen nicht mehr genügt, Politiker zu mieten oder zu kaufen. Sie lassen den Mittelsmann aus und führen selbst den Klassenkrieg. So haben wir zum Beispiel Berlusconi, den Medienmagnaten in Italien, und Trump, den Immobilienkönig in den vereinigten Staaten. Sie kandidieren, um sich und ihre Klasse zu bereichern in unverhüllten Akten von Vetternwirtschaft.
Warum kommen wir zu diesem Schauspiel? Weil neoliberale Parteien wie die Sozialdemokraten und Demokraten in Amerika Auszehrungs-Pläne vorangetrieben und Globalisierungsstrategien unterstützt haben, die Investorenvorteile über die von Arbeiter*innen stellen. Sie taten und tun das, weil sie gigantische Geldsummen von den Investoren dafür bekommen. Und diese Geldgeber werden dafür mit Geschäftspraktiken belohnt, die ihre Profite erhöhen. Dadurch haben die Parteien zwar ihre Kassen gefüllt, aber die sozialen Stellung ihrer Wähler geschwächt, die sich nun mit niedrigeren Löhnen und höheren Preisen abfinden müssen.
Dies hat zu einer Entfremdung in der Arbeiter*innen Klasse geführt, zu einer wachsenden Enttäuschung und schliesslich Verzweiflung bei den Arbeiter*innen, weil Jobs, besonders Arbeitsplätze in der Produktion, ins Ausland verlegt wurden, wo die Arbeitslöhne niedriger sind. Diese Verzweiflung, die zum Beispiel durch NAFTA oder das Nordamerikanische Freihandelsabkommen entstand, hat viele bewegt sich zu denen zu flüchten, die mehr und bessere Jobs versprochen haben, wie zum Beispiel Trump. Da sollen nun die, die davon profitieren, dass sie die Arbeit überhaupt ausgelagert haben, die Kapitalisten also, die sollen jetzt diese Jobs ersetzen und dann noch mit besserer Bezahlung? Macht das Sinn?
Arbeiter*innen, die von denselben politischen Kräften, die sie in Armut gestürzt haben, jetzt erwarten reich gemacht zu werden, tappen völlig im Dunkeln. Sie hoffen auf etwas, was nie eintreten wird. Verraten von ihren ehemaligen neoliberalen Verbündeten wenden sie sich verzweifelt an rechte Demagogen, die Arbeit, Brot und Ruhm versprechen.
Man sollte meinen, dass sie aus Deutschland's oder Italiens Beispiel von vor einigen Generationen gelernt haben. Hitlers Nationalsozialistische Partei – kurz die Nazis - haben Ruhm versprochen und das Land mit Schande bedeckt. Desgleichen brachte Mussolinis faschistische Partei dem Land Schmach und Zerstörung. Leute wenden sich solchen Figuren zu in Zeiten ökonomischer Negativentwicklung, wenn normale Regierungen inkompetent und unfähig scheinen es mit den Herausforderungen aufzunehmen; wenn die Lebensbedingungen auf gefährliche oder verzweifelte Pegel sinken und wenn das Morgen statt Hoffnung Angst einflösst. Wir sehen das an den gewaltigen Bewegungen gegen die Spar- und Auszehrungspolitik wie dem kürzlichen Brexit-Votum in England.
Der Neoliberalismus und seine gegen die Arbeiter*innen gerichteten Globalisierungsprojekte bereiten die Bühne vor, auf der die rechte Öffentlichkeit dann tanzt. Sozialisten und echte Linke sind zur Seite gedrängt und untergraben worden, weil sie nicht die Interessen der Arbeitenden vertreten haben. Weil sie die kapitalistischen Globalisierer nicht mit dem angemessenem Nachdruck bekämpft haben. Wir reden hier nicht von revolutionären oder gar radikalen politischen Kräften, denn die befinden sich selten in politischen Ämtern. Und selbst wenn, dann ergeben sie sich der Politik des Pragmatismus.
Ich meine die amtierenden Parteien des kapitalistischen Westens, wie die Labour-Partei in Grossbritannien, die Demokraten in den Vereinigten Staaten und die Sozialdemokraten in Europäischen Ländern. Sie alle greifen bereitwillig die Politik des Pragmatismus auf, die dem Markt, oder genauer der Investorenklasse dient. Und weil sie dieser Klasse dienen, müssen sie die Arbeiter*innenklasse, die Armen, die Verarmten und die Unterdrückten verraten. Sie sind die eleganten, hochintelligenten, überzeugungskräftigen Diener des Kapitals, die mehr Gefängnisse bauen, Schulen vernachlässigen und Polizisten mit Kriegswaffen ausstatten, Gesundheitsversorgung an den höchsten Bieter verkaufen und so weiter oder als Volksvertreter posieren.
Der Neoliberalismus wie ihn Londons Tony Blair verkörpert, oder Washington's Bill Clinton, Hillary Clinton und Barack Obama, bedeutet in Wirklichkeit die konservative Politik dem Markt zu dienen. Militärische und polizeiliche Unterdrückung und die Unterjochung der Arbeiter*innen geschehen mit Stil, einem Lächeln, mit sanften Worten und Höflichkeit. Politische Schriftsteller nennen dies seit Jahren den dritten Weg. Eine Art Mitte zwischen Rechts und Links. Das ist Unsinn, denn es ist in Wirklichkeit rechts in der Ausführung und links in Worten. Es unterstützt die Masseninhaftierung – eine rassistische Einrichtung in Amerika, es unterstützt den Krieg im Irak und in Afghanistan. Es unterstützte die Zerstörung Libyens, während Waffen an Israel geliefert wurden.
Es ist im Wesenszug der nettere, vorsichtigere Konservativismus, der die Tür für Donald Trump geöffnet hat. Hier hat die Politik der Illusion der Politik der Angst und des neu entstehenden Faschismus den Weg geebnet.
Es ist an der Zeit für die wahre Linke sich zu organisieren und sich zu erheben!
Danke, vielen Dank. Danke euch allen. Aus der Gefängnis-Nation, Euer Bruder Mumia Abu-Jamal.

Wer ist Mumia Abu-Jamal?
Mumia Abu-Jamal wurde in Philadelphia/USA, geboren. Er las leidenschaftlich gern, und mit knapp 15 wurder er kurz nach Gründung der Black-Panther-Party der Pressesprecher der Ortsgruppe Philadelphia. Mit Anfang 20 begann seine vielversprechende Karriere als Radiojournalist. Daneben fuhr er regelmässig Taxi, um seine Familie zu unterstützen, wurde Vorsitzender des Verbandes Schwarzer Journalisten in den Stadt und 1980 von den Daily News zu einem der "zehn Leute, von denen wir noch hören werden" gekürt. Es konnte niemand ahnen, dass das in ganz anderer Form als erwartet der Fall sein würde.
In der Nacht vom 9. Dezember 1981 kam es in der Stadtmitte von Philadelphia zu einer Schiesserei. Der Polizeibeamte Daniel Faulkner starb dabei am Tatort, Mumia Abu-Jamal überlebte schwer verletzt. Der Täter floh. Abu-Jamal beteurte seine Unschuld – dennoch wurd er zum Tode verurteilt und war 29 Jahre im Todestrakt. Im Dezember 2011 wurde das Urteil gegen ihn als verfassungswidrig aufgehoben und in "lebenslänglich" ohne Bewährung umgewandelt. Seither befindet sich Abu-Jamal im Regelvollzug im Gefängnis SCI Mahanoy in Philadelphia. Anfang 2015 erkrankte der Gefangene schwer - erst ein körperbedeckender Ausschlag, dann ein diabetischer Schock, schliesslich die Diagnose Hepatitis C. Die Gefängnisbehörde verweigerte ihm lange eine Behandlung mit den heute verfügbaren antiviralen Medikamenten - ebenso wie 10.000 andere infizierten Gefangenen in Pennsylvania. Begründung: zu teuer. Dagegen hatte Abu-Jamal geklagt - mit Erfolg. Anfang Januar erliess Bundsbezirksrichter Robert mariani im Klageverfahren Abu-Jamal gegen die Gefängnisbehörde von Pennsylvania eine einstweilige Verfügung. Dadurch werde die Behörde angewiesen, dem Gefangenen "innerhalb von 21 Tagen die unmittelbar wirkenden antiviralen Medikamente" gegen seine Hepatitis-C-Infektion verabreichen zu lassen.
Abu-Jamal hat au dem Gefängnis heraus mittlerweilen acht Bücher und unzählige Kolumnen veröffentlicht, letztere werden seit 15 jahren in deutscher Übersetzung in der jungen Welt abgedruckt.

Radio Aktiv Berlin - Berichte von der Rosa-Luxemburg-Konferenz
Radio Aktiv Berlin - Ausgabe vom 18. Januar 2017
Am vergangenen Wochenende fand die 22. Internationale Rosa-Luxemburg-Konferenz in Berlin statt. Ca. 2800 Menschen nahmen teil und hörten Vorträge u.a. aus Brasilien, Türkei/Kurdistan, Euskadi oder den USA. In unserer Sendung möchten wir heute zum einen den Beitrag der Black Lives Matter Aktivistin Marylin Zuniga und zum anderen den des gefangenen Journalisten Mumia Abu-Jamal vorstellen.
Sämtliche Musik der Sendung kommt heute von der Solidaritäts-CD "One Life For FREEDOM" (Songs for Leonard Peltier and the Protectors of Water (Mehr hier...).
Unsere üblichen Rubriken entfallen daher. Für den Demoticker und die Veranstaltungshinweise empfehlen wir den Stressfaktor und für die wöchentliche Kolumne von Mumia Abu-Jamal auf Prison Radio
Radio Aktiv Berlin – jeden Mittwoch im Pi Radio Verbund von 16 - 17 Uhr
auf der 88,4 FM in Berlin und 90,7 FM in Potsdam
Livestream rund um die Uhr
Podcasts
Blog

Konferenz Homepage
hier geht es zur Hompage der Konferenz...